WMC CMS platform is the proprietary solution of our agency. The sytem allows one to manage the contents on the website in an easy and very flexible way. WMC CMS was built based on the Symphony framework.
The system is made up of modules. The basic version of WMC CMS includes the following functionalities and modules:
creating a website structure

- creating any number of main categories and subcategories

menu builder

- flexible building of all kinds of menus (main menu, footer menu, side menu, mobile menu and other, designed in a given website)

edition of subpages

- content builder allows one to build the content by dragging (with the drag and drop method) and arranging individual elements, such as a text editor, expanding texts, boxes, galleries, video, module elements, other additional widgets designed on the website

language support

- each subpage can be copied from one language version to another (option "Save and copy translations")

news module

- creating news on the basis of the title, publication date, teaser, content and photo builder, news presented on the page in chronological order, in the form of a list

photo gallery and video gallery module

- video files placed in the website resources or in the form of a link to an external portal

module of boxes and groups of boxes

- contents presented in boxes have their own unique style, they are used especially on the home page of the website

social media module

- adding icons that provide links to selected social media

editing an SMTP account

- a noreply account used to send notifications from the website

translation module

- edition of translations of system phrases appearing on the website and their independent update on the website

user module

- different roles in the system and related permissions can be assigned to WMC CMS user. User operations in the WMC CMS system are saved and displayed in the form of a timeline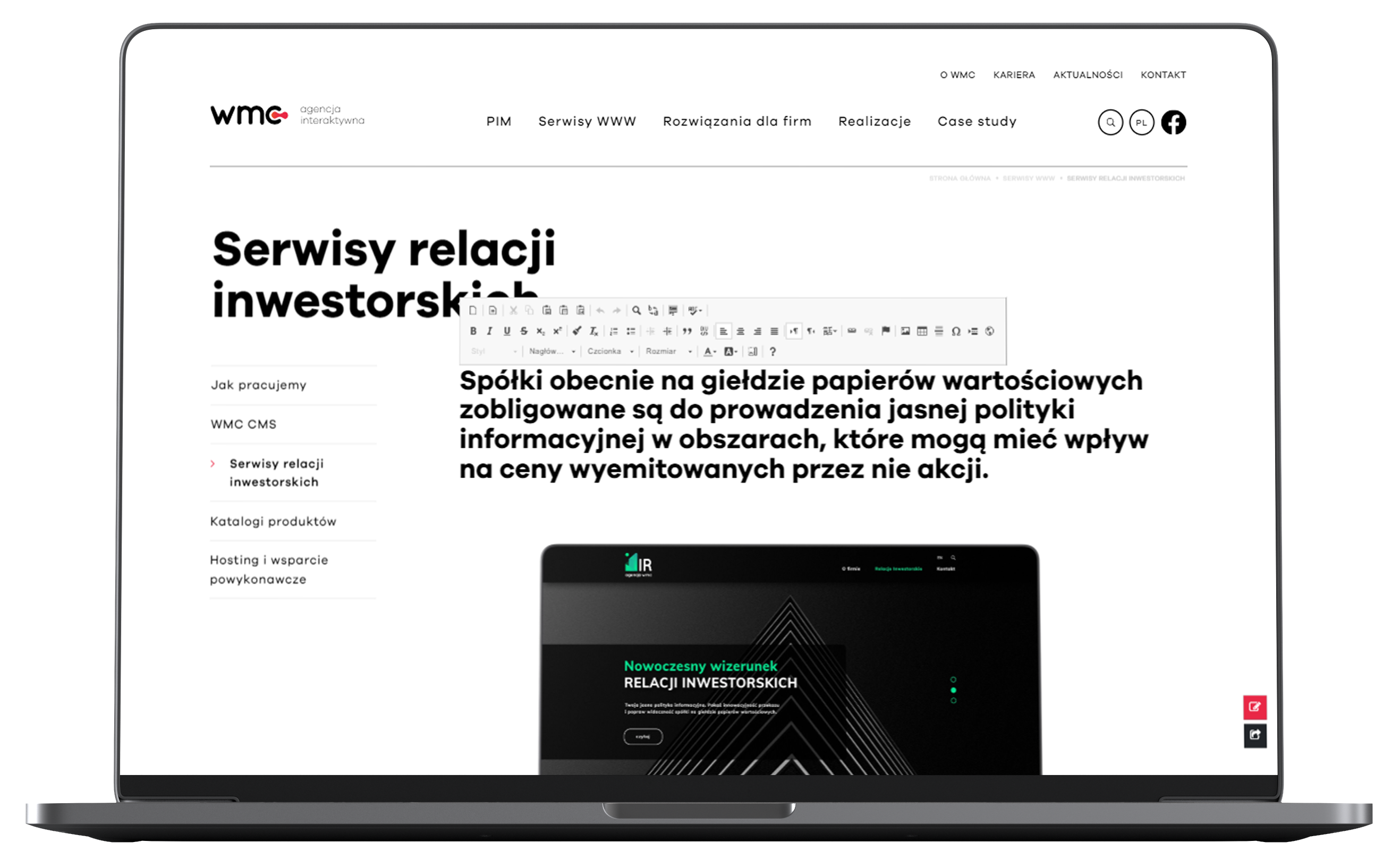 Live edit
Content entered on the website with a text editor can be edited directly in the website view, not in the WMC CMS panel. The user has to log in to the panel and open the view of a given subpage in another window.
The live edit function significantly improves the work of editors. It allows for quick correction of errors, adjustment of justifications, editing of headings, paragraphs, pictures or hyperlinks.
SEO support
You can add SEO tags to each subpage: meta title, meta description, key words, and edit the content of the website address. Pictures and video files can be described with alternate text (alt text). The system user also independently adds the Google Analytics code.
Expansion of WMC CMS
The CMS platform can be expanded in a flexible way with additional elements. For investor relations websites, the IR solutions package is activated (detailed description here).
WMC CMS can be extended with further, dedicated functionalities and modules that interact with the already existing solutions in the system. The system can also be integrated with external applications, e.g. sales ones.